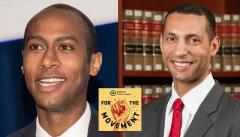 Produced by the National Urban League, For The Movement is a weekly podcast that discusses persistent policy, civil rights and social issues related to African Americans and communities of color. From attempts to label Black activists as extremists, to the next generation of tech innovators, we will deliver relevant news and information from inside the Movement and Washington. The good, bad, and everything in between. We're not journalists. We're not policy wonks. We're advocates who care. We do this for the Movement.
Our Hosts
Marc H. Morial

Donald Cravins, Jr.

@marcmorial
@dcravins
 
 
 
 

Kezmiché "Kim" Atterbury

Jordun Lawrence

@kayellea
@_Jordun
Latest Episodes
On this week's episode, we are discussing the automation of the workforce, and its impact on communities of color. We are joined by Spencer Overton, President of the Joint Center for Political and Economic Studies, and Malcom Glenn, Strategic Partnerships and Community Engagement Manager at Uber Technologies.
On this week's episode, we discuss the FBI's attempt to label and investigate Black activists as "Black Identity Extremists." We're joined by U.S. Representative Karen Bass, Representative of California's 37th district and member of the House Judiciary Committee, and Mr. Justin Hansford, Associate Professor of Law at Howard University and Executive Director of Thurgood Marshall Civil Rights Center.
Listen & Subscribe
Contact
For tips, pitches, questions contact us at: podcast@nul.org